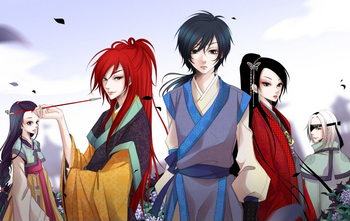 Flames spread like disease as the royal palace falls victim to murder led by greed and betrayal. Forced to escape from the catastrophe, two young survivors seek help from a courtesan of Yu Hyangru. To reclaim what has been lost, the plan is set within the heroic guise of the Crimson Moon. However, as the mysteries of the past begin to resurface and dark secrets start to unwind, a cruel fate awaits for each and every encounter.
Twelfth Night is a 94-episode webtoon series written and drawn by Miryu, and divided into three seasons. The plot primarily revolves around a love triangle with a twist and a rebellion against an irresponsible king. It is inspired by Shakespeare's Twelfth Night and Lee Seung Hwan's song Request.
The original Korean webtoon (manhwa) was first published on Daum on 31 May 2012 and is now complete. Spottoon began publishing the English translation in mid 2015 and it is also now complete. The first 10 episodes are permanently free; individual episodes can be unlocked for USD$0.99, and the entire webtoon can be unlocked for USD$32.96. Episodes remain unlocked for 365 days.
The printed version of the webtoon was released in eight volumes, starting with Volume 1 in August 2015 and Volume 8 in August 2016.
The setting resembles historic Korea, but the story is a fantasy with its own geography of nations. The webtoon is notable for its beautiful art.